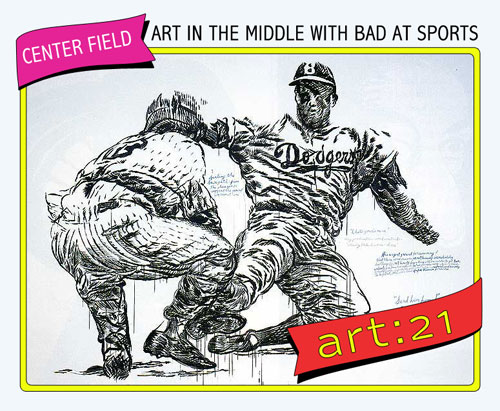 We're back with the latest edition of "Fielding Practice," a podcast produced by Bad at Sports for Art21 readers and listeners. Before giving you the rundown on this month's chatfest, I wanted to direct your attention to the orange "donate" button (the one with the heart on it) placed conveniently at the top and bottom of this post and ask you to consider making a small donation to Art21's Blog Party! fundraiser. Over the next four weeks readers of this blog will have an opportunity to donate to the columns they read regularly — the funds go to compensate the columns' writers. So help support Center Field and our new Fielding Practice podcast by throwing some change into Bad at Sports' collective hat. It would be truly appreciated. And now, onwards…
This month on Fielding Practice, we talk copyright (inspired by Patrick Carious vs. Richard Prince and Gagosian Gallery, natch), discuss the impact of Chicago Imagism on younger generations of artists (inspired by the current Jim Nutt: Coming Into Character and Seeing Is A Kind of Thinking: a Jim Nutt Companion exhibitions at the Museum of Contemporary Art Chicago), and spend a few moments plugging that which we have seen (or plan to see) in the Windy City this month (find links to the latter below). Come hang out, and thanks for listening!
[audio:https://hw.libsyn.com/p/e/4/2/e425269ee3f0da1d/Bad_at_Sports-Fielding_Practice_3.mp3?sid=759d8ff62c48bba9de8dadceff7ee5e0&l_sid=29830&l_eid=&l_mid=2528457] Click to listen to the podcast.
Chicago events we're looking at this month: