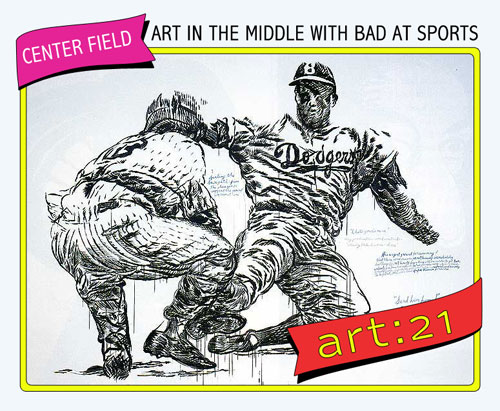 It's time once again for Fielding Practice with Bad at Sports, a special podcast produced for the Art21 blog. On this month's episode, Duncan MacKenzie, Dan Gunn, and I are joined once again by Abraham Ritchie, Chicago editor of ArtSlant, to delve into the wild world of art in Chicago and beyond. April was art fair month in our fair city, with the Merchandise Mart's Art Chicago and NEXT fairs taking place over the April 29-May 1 weekend and the upstart MDW Fair organized by threewalls, Roots & Culture, and Public Media Institute rolling out the weekend prior to that. We debate the pros and cons of both fairs, which–although polar opposites to one another–seem somehow to embody the strengths and weaknesses of Chicago's own art scene at this particular moment.
Next, we move on to a more theoretical, and certainly more speculative, discussion of an early Modernist revival among some of the artists we've been looking at recently: from Ruby Sky Stiler, Mark Grotjahn, and Ryan Fenchel (artists who are featured in exhibitions this month at The Suburban, Shane Campbell Gallery, and Dan Devening Projects + Editions, respectively), to L.A.-based artists Amy Bessone, Aaron Curry, Thomas Houseago, and others. Play along with us at home as we struggle to make sense of what we're seeing — examples of which can be found below. We finish off with our "What the F&*% Are You Looking At" calendar, where each of us plugs a local exhibition or event that we're looking forward to seeing this month. Thanks for hanging with us!
[audio:https://traffic.libsyn.com/fieldingpractice/Bad_at_Sports_Fielding_Practice_4.mp3] Click here to listen to the podcast.
Images and links after the jump.

What we're looking at this month:
Abraham: Mark Bradford at MCA Chicago, School of the Art Institute's MFA Thesis Exhibitions, Aristotle Georgiades at the Chicago Cultural Center.
Claudine: Mark Grotjahn at Shane Campbell (May 13 – June 25, 2011), Uta Barth at The Art Institute of Chicago (May 14 – September 14, 2011), John Neff Prints Robert Blanchon at Golden (May 18 – June 25, 2011).
Dan: Tony Smith's Wall at Valerie Carberry Gallery / Wright Auctions (May 6-20, 2011).
Duncan: All things MCA Chicago in light of their recent curatorial turnovers.