[ This blog series is about artists and curators who chose to work in Miami, and those who've been based here that decided to leave. For more info, read the introduction here. ]
Miami is not like Abu Dhabi. It gets hot in Miami (91F today, 20% chance of rain), but it gets hotter in Abu Dhabi (110F, 0% rain). On the other hand, both cities thrive at the water's edge, and both are influenced by an international influx. Yet, in nearly countless ways–culturally, sociologically, politically–the two cities evolve on opposite sides of the planet.
"Sometimes I feel there's a real similarity, like immense ambition, immense flow of capital, a city that seems to have a real vision of itself." Through the eyes of young curator Diana Nawi, Miami can be like Abu Dhabi.
In a busy office at her new job, Diana continues, "It's kind of a pioneering spirit, like Miami's the final frontier of what is possible in the U.S. in a market and cultural economy that's not saturated, a place where you can really accomplish something."
Diana is singularly focused on her work, the imperatives of a new job and a new art community. She arrived in Miami fresh from the Guggenheim curatorial team that's conceptualizing and planning exhibitions, collections and programming for the institution's largest museum, a Frank Gehry-designed center on Abu Dhabi's Saadiyat Island, set to open in 2017.
Today she's deep in the mix at the Miami Art Museum (MAM) for the rise of another new museum, working with Chief Curator Tobias Ostrander and his team to ensure MAM's new Herzog & de Meuron-designed building transcends the 20th-century standard for how art museums serve their visitors.
From MAM's March 21 press release:
Thom Collins, director of Miami Art Museum, announced today the appointment of Diana Nawi as the museum's associate curator… The museum is dedicated to developing and presenting exhibitions that reflect our global community here in Miami. Diana's educational background and experience curating art from around the world will be integral as we continue this commitment when we reopen as the new Pérez Art Museum Miami (PAMM), where we will have more than three times the amount of exhibition space than we have today.
Filling that trebled space with art for a fall 2013 opening is the daunting challenge of the curators, as is organizing the museum's ongoing shows; just five months away is New Work Miami 2013, the last exhibition in the old building. The show is being curated with extra measures of scrutiny from a community with concerns about how PAMM will include local artists in its programming.
Putting together New Work Miami 2013 with Associate Curator Rene Morales (who grew up in Miami's Little Havana), Diana discovered that the sheer number and distinction of working artists in the city defies statistics, and that the artist population is a powerful and meaningful presence. It's an anomaly partly explained by an ingenuous Miami enthusiasm, a willingness to press forward where many would ease back, to persevere despite contrary economics, to allow yourself a focus to work, work, work.
"I've really hit the ground running and done a lot of studio visits," says Diana. "The energy and number of artists producing in this city, it's quite remarkable. Availability of space and resources is a unique facet of this city that enables a lot of young artists, and mid- and late-career artists, to work quite ambitiously. There's a really strong studio practice here."
Diana's focus on Latin art at UCLA and Williams College has turned out to be just one departure point. "It's been interesting to not see a dominant trend and type of work being made here," she says, "but rather–in terms of content and form– I've been struck by the diversity of media people are working in, practices are very diverse here."
Asking Diana how PAMM will benefit curatorial practice, she describes the qualities that drew her to pursue the job with MAM. "The design program is helping shape the curatorial program. All of the galleries follow one another, rather than having a floor or a wing of the museum devoted to something in particular. Each gallery opens up to another, so the curatorial programming is meant to be very interconnected."
"So for instance, the Focus Gallery space is meant for an in-depth exhibition of a single artist, a single idea, a single medium. It's a sense of intimate scale, in conjunction with the notion that you'll be moving through different types of programming. And it will lead to an Overview Gallery, which is a collection gallery."
This Miami art moment has synced with her own, a confluence of forward momentum. But the decisions on realization of MAM's new home have been a long-term struggle, with casualties among very committed major collectors and patrons. Shifts in donors and benefactors changed the perceived tenor of the new museum's character; to what degree can only be assessed after the doors open and shows are visited.
When an institution takes bold steps, it can sometimes stagger from the opposing forces responsible to otherwise balance it. The right path is not always clear, but the end goal is: to locate a world-class public art museum in a city that deserves one. To learn more about how MAM has moved onward, read this article on the specific and symptomatic conflicts surrounding MAM-becoming-PAMM, written very recently by Miami-based art critic and journalist Anne Tschida in The Biscayne Times.
Meanwhile, Diana has joined the fray far enough in, and sees only a bright future. "One of the reasons I moved here is that I'm caught up in the idea of Miami as being full of so much potential in the art community, and in conjunction with our incredibly strong fellow institutions, to be a really important city in the 21st century. In some ways it's a model city in the U.S. and other parts of the world."
Asked about her personal sense of Miami, she takes a broad view to find her rightful place. "This is a young city. A lot of young people come here from other cities, or are from here and come back after going to school somewhere else, to help build a kind of cultural industry here. That is really quite amazing, to find this network of other young cultural practitioners."
Since arriving in Miami, Diana hasn't encountered the young cultural practitioner Jessie Laino, an artist who grew up in Miami and completed her BFA at the city's New World School of the Arts. That's because last fall Jessie decided, only a few months after graduating, it was time to leave….
Back in middle school, Jessie Laino chose to end her career as a child model and begin one as an artist, like her mother, with whom she began to study painting technique. From her contractor father she learned woodworking and material joining skills. She got on the waiting list for New World School of the Arts High School, and waited. Tragically, her mother died just before the New World acceptance letter arrived.
Intensely focused on production throughout school, Jessie evolved and fashioned a steadfast style of practice. After high school, she used her savings from child modeling for the Kansas City Art Institute until the money ran out. A scholarship brought her back to Miami and New World's BFA program. The ink on her degree still wet, she began diligent studio production of sculpture and conceptual work, showed at notable opportunities, and the renowned Fredric Snitzer Gallery added her to its list of well-established artists. Which brings us to her leaving.
"I was comfortable in Miami and that was kinda the problem," she says. "It's easy to feel retired there at 25, you know?" For the outside observer, Jessie was prolific and chasing success at a young age. But it wasn't enough. "I was a stone's throw from the beach, my rent was super-cheap, I worked three days a week and was able to pay my bills. And it's always vacation weather there. I had nothing pushing me."
So she pulled a U-Haul full of possessions and tools to New York City, accompanied by her boyfriend and her dog. She arrived at the place where practically every artist and show that intrigued her was located, where more than once, she skipped school to attend The Armory Show. "I thought, New York was probably the ultimate place you could go for a challenge."
She quickly figured out part-time work, modest living quarters, and shared studio space; enough to begin. Achieving the necessities that demanded action required momentum; it forced on her the inarguable mindset of do it now. The city cooperated with her strategy, starting with her car: "New York ate it. Someone crashed into it. You're not supposed to have one so someone kind of took it. And in the end it was a good thing. It's so easy to get around here."
One of the most fundamental aspects of New York–what she imagined, and later confirmed–is the abundance of materials to transfigure into artwork. Some of it intact, some as infrastructure, some reduced to texture, color or impression. She could somehow get any material she needed, fast, with no excuses not to move on an idea. "New York's got the best trash in the country. Everywhere I look there's amazing things just put outside that I'm allowed to take. There's material everywhere."
"Here I see things in the streets that I dreamt of in Miami. In Miami I channeled industrial structures and forms because I wasn't seeing them." [Watch a video about Jessie's 1-day performative installation at Fountain Miami 2010, where she evoked a multi-sensory industrial situation for the fair's visitors.]
"Here I can just pick things off the ground and manipulate them into my work." But the availability of materials she long imagined is not making her work easier, she explained, it's challenging her to rise to the occasion of the city in which she practices.
"I feel like it's more serious here, like people are taking it more seriously. The people I share studio space with are here as often as possible, working. New York's just always going. There is no other option."
Today Jessie is making a two-piece sculpture incorporating material she found in the hallway of her studio building with material found even closer: faux marble patterns, painted by her mother, that she'd brought from Miami. The work will show in the Snitzer Gallery booth at the upcoming NADA Hudson Show in late July. The video below is a snapshot of the studio visit…
"New York has ambition and motivation right outside your door, mocking you if you're not working hard enough."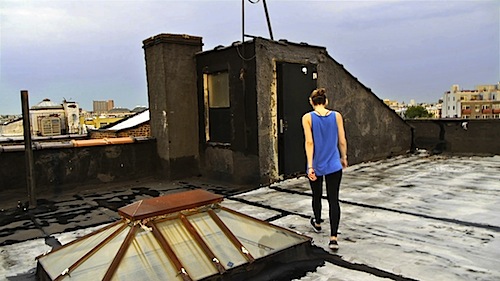 * * * * * * *
 Learn about Wet Heat Project. Watch our short documentary films online.